NO more blackheads! Skin Reborn with our new EGG Silicone Facial Cleansing Brush
Pores
Blackheads
Acne, Blemishes
Loss of Firmness and Elasticity
All skin types including sensitive skin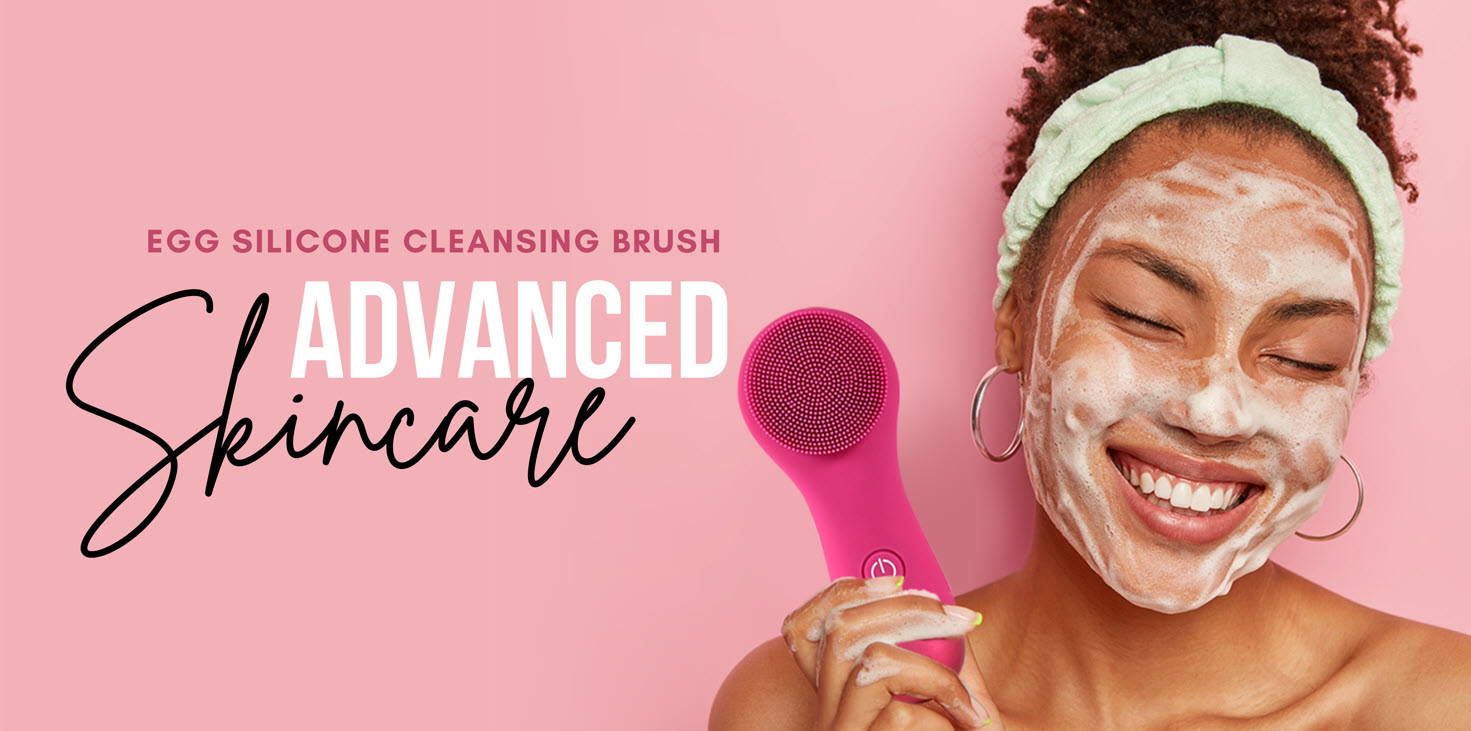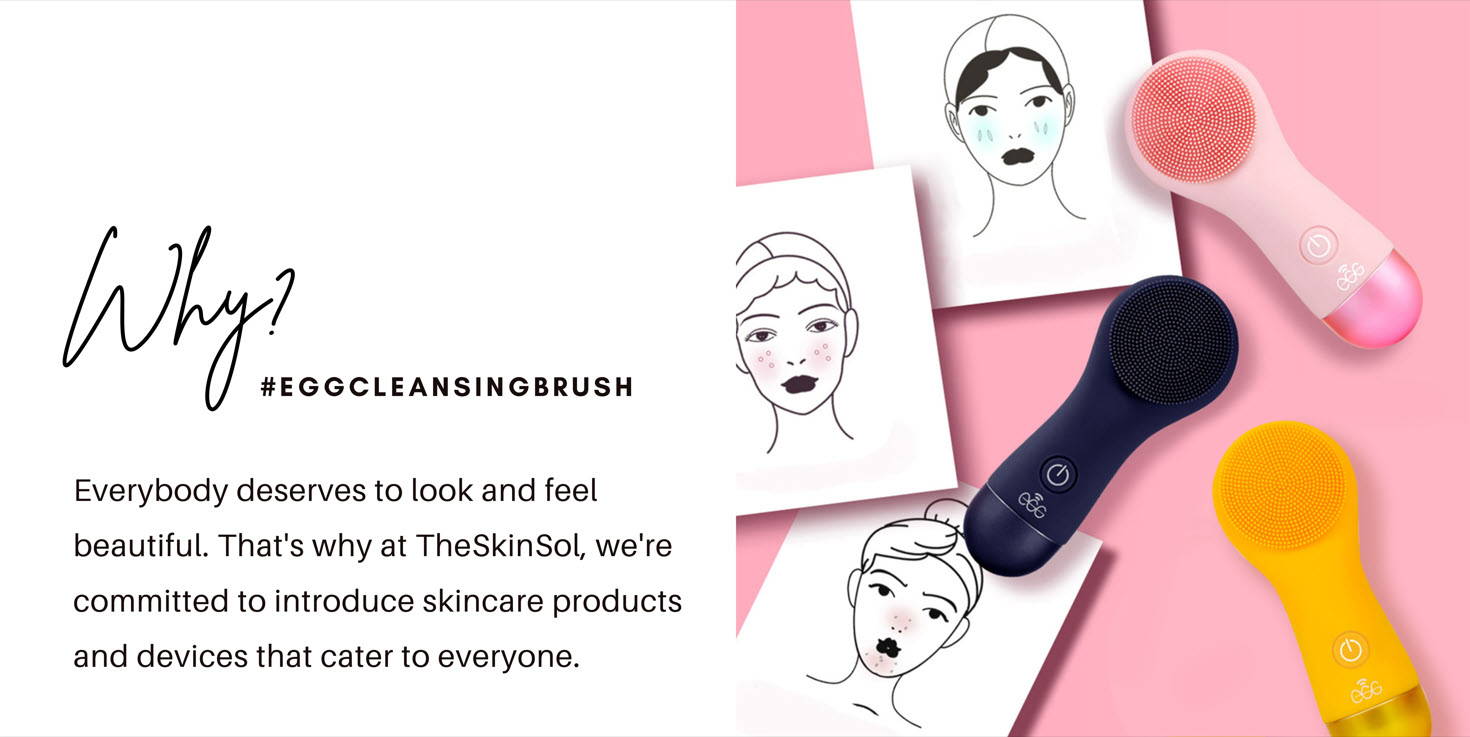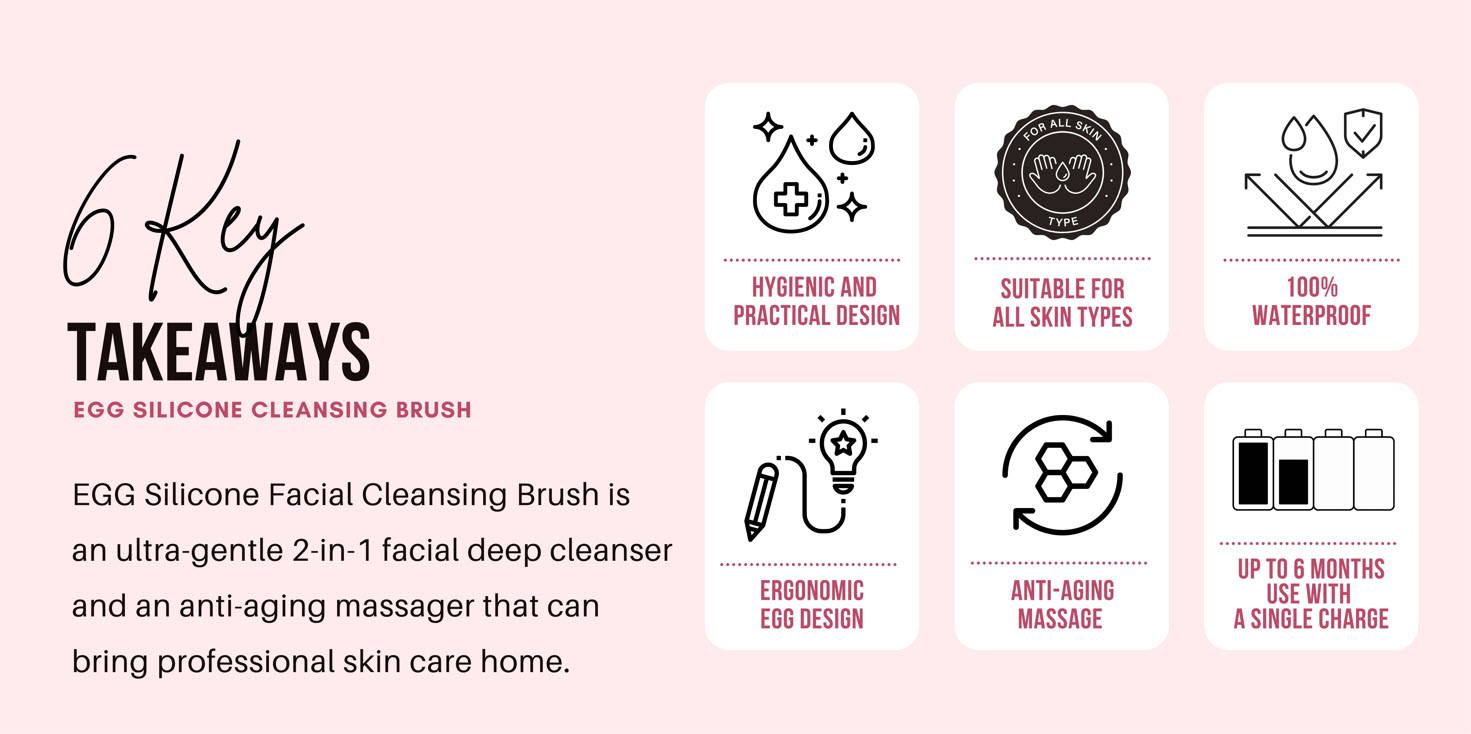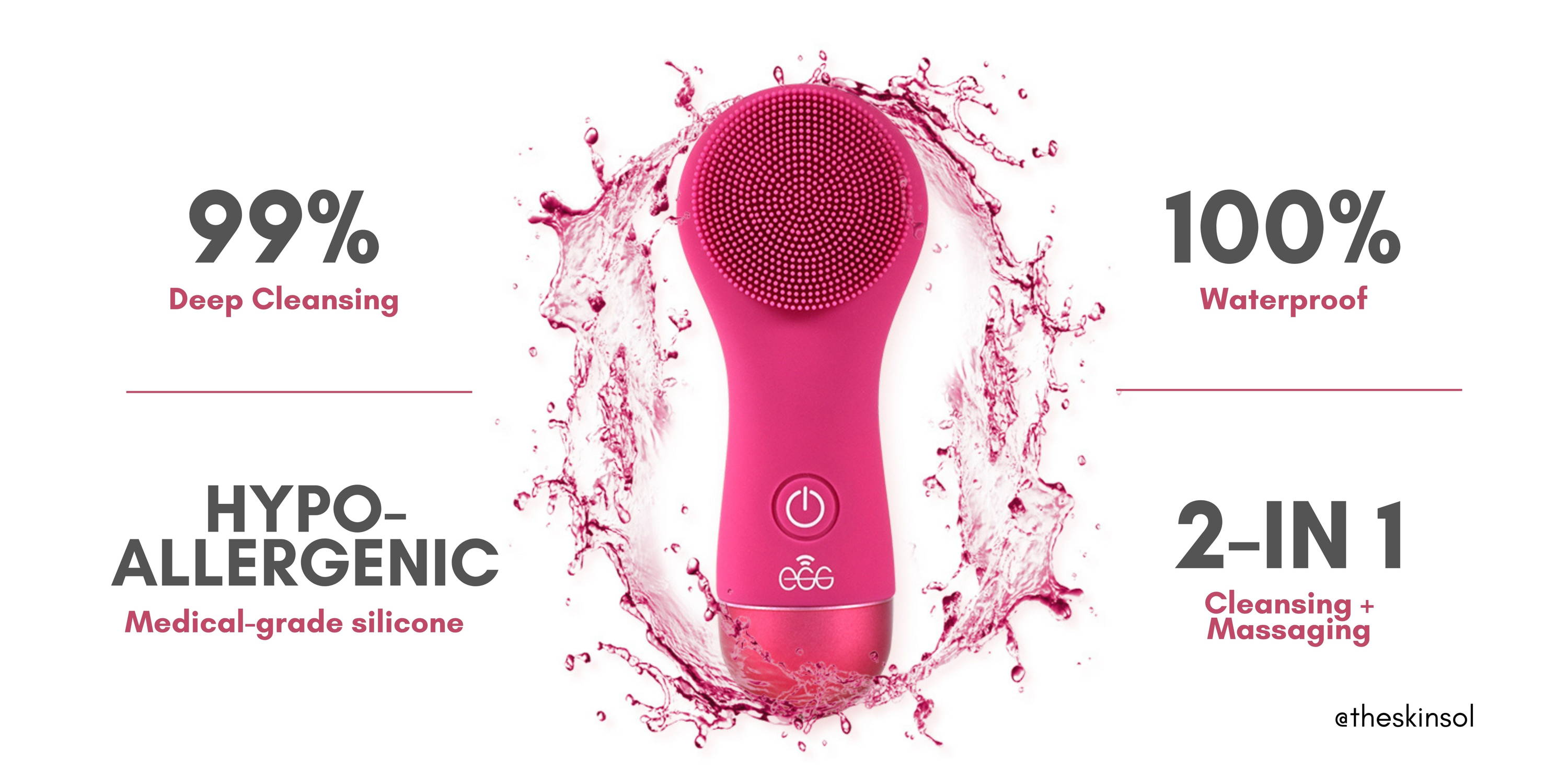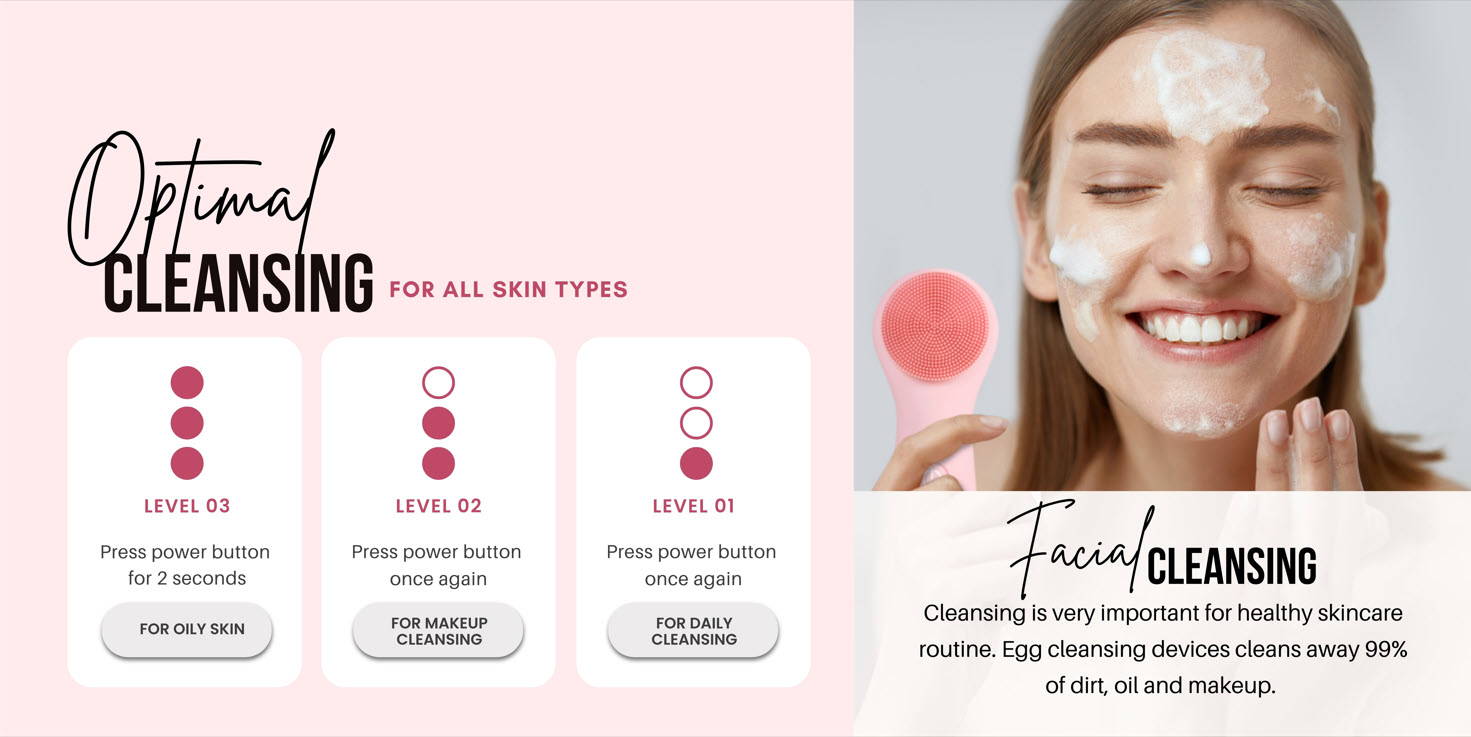 1. Dampen your face.
2. Apply a pea-sized amount of your favorite cleanser onto the device.
3. Press and hold the button for 2 seconds to power on and then begin to massage your face in circular motions for 1~3 minutes. *Each time you press the power button, the vibration strength decreases, and it turns off at the end*.
4. To switch between cleansing and massaging mode, while the device is on, press and hold the power button for 3 seconds and it will switch to the other mode. Each cleansing and massaging mode has 3 different intensity settings.
5. Rinse face thoroughly with water.
6. Rinse the device with water and keep it on its plastic dock to air dry and for future use. *Do not use alcohol, petrol, or acetone cleaning products, as they may irritate the skin and damage the silicone*.
*The smart timer will beep after 90 seconds to let you know the cleansing/massaging time and will automatically shut down after 3 minutes.
You may use the device with any foam, oil, or balm cleanser. However, we do not recommend using it only with water. The device is especially effective on blackheads and whiteheads, but results may vary depending on your frequency and intensity.
Limited warranty of 1 year. Please read the following carefully before claiming the warranty.
TheSkinSol™ warrants that the EGG Silicone Facial Cleansing Brush (the "Device") will be free from material defects in materials or workmanship for a period of one (1) year from the date you order the Device ("Warranty Period"; such warrant, the "Limited Warranty").
*Warranty does NOT cover lost devices, cosmetic deterioration caused by fair wear and tear, damage caused by accident, misuse or neglect, any modification to the device, attempted repair, any alteration of the factory model name and/or serial number. Any attempt to open or take apart of the Device (or its accessories) will void the warranty. The Limited Warranty is non-transferable.
If your Device is found to be defective in a manner that violates the Limited Warranty during the Warranty Period, TheSkinSol™ will replace your device with a new or refurbished Device, at no additional charge, provided that (i)you have the original receipt to verify the purchase date; (ii)you have used the Device strictly as permitted by this Agreement; (iii) you provide supporting evidence in photos or videos that the Device is defected; (iv) you notify the defect to info@theskinsol.com and follow TheSkinSol™'s instructions regarding the return of the Device to TheSkinSol™, in each case during the Warranty Period; and (v)TheSkinSol™ is able to verify that the Device is defective in a manner that violates the Limited Warranty.